Joshi Kousei - Girls High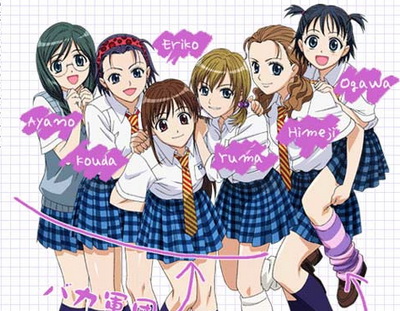 Komedie, których akcja się dzieje w szkole to jeden z bardziej oklepanych tematów, za który biorą się twórcy anime. Czy można go jeszcze bardziej oklepać? Oczywiście, że tak! Tytuł "Girls High" jest tego idealnym przykładem.

Eriko, Yuma, Ayano - ta trójka przyjaciółek właśnie skończyła ciężkie życie gimnazjalistek, aby w końcu spotkać się twarzą w twarz z realiami szkoły średniej. Najlepiej oczywiście zrobić jest to na miejscu, a więc w budynku liceum. Jeszcze nie wiedzą o tym, że tłumy chłopców wcale nie padną im pierwszego dnia w ramiona. Jeszcze nie wiedzą, że licealistki mają więcej niż jeden okres w roku. Będą się zastanawiały co robią - i tu cytat "jakieś włosy" w damskiej szatni. Niemniej jednak ich stan wiedzy wcale nie jest taki fatalny. Akari, Kyoko i Ikue - także świeżo upieczone licealistki również wiązały ze zmianą szkoły trochę wygórowane nadzieje. Trudno będzie je skonfrontować z tym, co czeka wszystkie sześć dziewczyn w nowej roli japońskich licealistek.

Wstęp jak widać jest dość tradycyjny - mamy dziewczyny i początek życia szkolnego. Jak potoczy się to dalej? Ano będziemy mieć dalej dziewczyny i... życie szkolne. Nie ma mowy na żadne odstępstwa. Jakby tego było mało brak tu wyraźnie głównej bohaterki. Wszystkie sześć mamy okazję poznać dość pobieżnie i choć mają zróżnicowany charakter i inną historię to ich schematyczność razi w każdym odcinku tak bardzo, że niewielu potrafi dotrwać do końca. Fabuła opiera się na osobnych historiach i nic nie stracicie jeśli po trzecim odcinku obejrzycie dziewiąty. Całą serię można określić jako komedię pomyłek - dość kiepską. W porównaniu do teoretycznie podobnego anime - "School Rumble" - zupełnie nieoryginalną. Twórcy najprawdopodobniej w którymś momencie zorientowali się, że jednak idzie im dość marnie, więc znajdziemy całą masę elementów przyciągających widza. Policzmy ile razy widać majtki głównym bohaterkom w pierwszym odcinku... Jeden, dwa, trzy, cztery, pięć....ekhem, przepraszam. Ci, których to tak bardzo ciekawi niech sprawdzą sami. Później już takich sztuczek marketingowych się nie doszukamy, chociaż komuś widocznie było ich mało i równie skąpy jest ostatni odcinek. Jednak nie wszystko wygląda tak fatalnie. Niektóre aspekty życia prywatnego są dość ciekawie przedstawione i od czasu do czasu mogą rozśmieszyć. Chłopak jednej z dziewczyn ma na imię - uwaga - Shimotakatani. Kolejne zadanie dla ciekawskich - powiedzcie to krócej niż seiyuu :) I koniecznie dowiedzcie się jak wypadło jego pierwsze spotkanie z rodziną ukochanej.




strony: [1] [2]